---
RemoteScan offers seamless virtual integration of scanners in your Terminal Services or Citrix® or LAN environment. With RemoteScan, your end users simply plug any scanner directly into their PC or Workstation, and scan directly into any of your software applications, no matter where those applications are hosted.



BANKS, ACCOUNTING FIRMS AND LAW OFFICES PREFER REMOTESCAN
Current Customers

Since 2003, RemoteScan has been providing scanning and imaging connectivity solutions to financial customers worldwide. RemoteScan software is used in over 120 countries, including thousands of accounting firms, law offices, banks, insurance agencies, freight companies, transportation providers, hospitals, manufacturing facilities, government offices, universities, and software vendors. RemoteScan software has been purchased and is used by Thomson Reuters Creative Solutions, Bank of America, First Western Bank, Farmers Bank, First Capital Bank, First Community Bank, Northeast Bank, Exchange Bank, Unity National Bank, Bank of America, Farmers Insurance, Community Financial Credit Union, Spire Investment Partners, and financial departments of Northrop Grumman, Chevron Texaco, Frisby Aerospace, Aerojet, Alaska Airlines, Continental Airlines, SkyEurope Airlines, and the US DOT.
Scanners: ID cards, drivers licenses, passports, hand written notes, print-outs from other financial systems, mortgage applications, tax returns, and other paper records can be directly scanned from end user PCs and workstations into any software hosted on the network server. RemoteScan eliminates the need for scanning outsourcing and reduces steps for saving document image files into hosted applications. No outsourcing means your employees will scan documents directly into your existing financial document management and accounting systems, leading to more efficient searches of document files and a true savings in staff time.

WebCams: RemoteScan works great with ID badge creation software systems. With RemoteScan, imaging devices, including webcams, digital cameras, etc. can be used in the same way as a scanner, and software applications that incorporate either scanning or image acquisition can share and access imaging devices that are connected to remote client work stations or PC's, even in Terminal Server and Citrix network environments.
Streamline Your Workflow

| | |
| --- | --- |
| | Scan remotely from thin client workstations or PCs into hosted applications. Works effortlessly with all modern scanners, including imaging devices, high-end scanners, duplex scanners, "all-in-one" devices, card scanners and flatbed scanners. |
| | Allows a single, high-capacity scan station to be shared with other users in the office. Works flawlessly with all versions of Windows Terminal Server as well as all versions of Citrix. Secure native RDP and ICA protocols. No need to change firewall configurations. Easy installation and simple setup even on large networks. |
| | Allows you to create templates to enable consistency in users scanning choices even among many different brands and models of scanners. Lossless compression - use your high-capacity scanners on your network and let your end users scan straight into any hosted application. |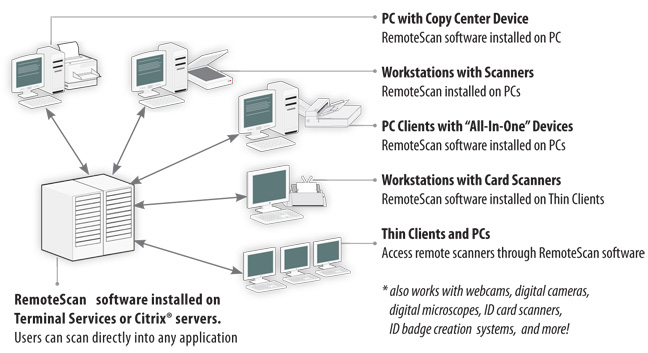 EASY INSTALLATION
RemoteScan software is provided as a downloadable, self-installing executable. The setup program walks users through the installation and configuration steps. Downloading, installing and configuring RemoteScan takes only a few minutes, and does not require technical expertise.

WHAT TO BUY
If you are using Terminal Services or Citrix, then you will need our RemoteScan for TS/CX product. If you need help with your purchasing decision or network configuration, please contact us. We are a U.S. company with normal office hours and trained and helpful sales and support staff available to talk with you regarding using scanners with your financial and document management systems. Give us a call any time at (406) 721-0277.